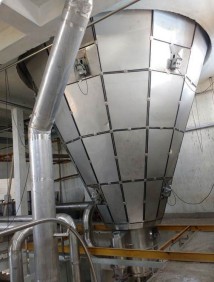 SPRAY DRYER
Drying is the process of removing liquids from solids by evaporation.
Spray Drying is a method of producing dry powder from liquid or slurry by rapidly drying with hot gas.
One of the advantages of spray drying is the consistent particle size and moisture content.
Spray Dryers are widely used in pharmaceutical and food industry.
Tavron Spray Dryers are available in Capacity from 5 Kg / Hr to 1500 Kg/Hr Water Evaporation.
They are available with Rotary Atomizer, Nozzle and Two fluid system.
Material of construction SS 304 / SS 316.
Second stage drying with Vibro Fluid Bed Dryer is available for thermal sensitive materials.
Three Stage Drying with Stationery Fluid Bed and Vibro fluid bed can be provided.
Available with the hot air producing system of steam, Direct or Indirect oil fired, Thermic fluid etc.
Closed Loop Dryer is available on request for special application.
Complete Auto control.
Available with PLC and SCADA control.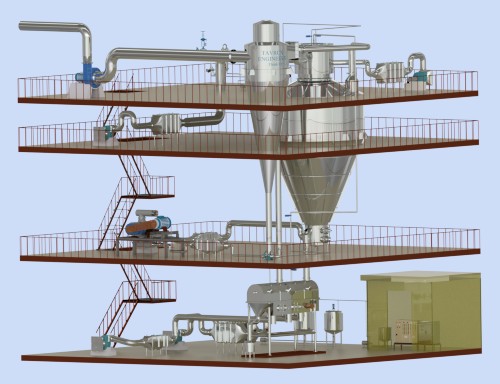 ADVANTAGES OF TAVRON SPRAY DRYER
Powder Quality remains constant throughout the production.
They can be used for both heat resistant and heat sensitive.
They can be designed at various size as per customer requirement.
Product density and moisture content can be controlled.
Varying Feed rates can be used.
Designed in complete Automatic Controlled with PLC and SCADA.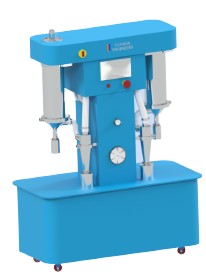 APPLICATIONS
Some of the applications of spray dryer in various industries
Dairy Industries for milk powder, whey powder.
Coffee and Tea Powders.
Fruit Pulps, Juices and Pastes.
Pharmaceutical Products like Algae Powder, Penicillin etc.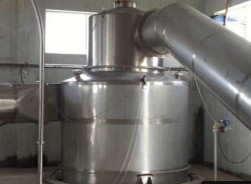 EFFICIENT CYCLONE SYSTEM
Can be designed with Single / Multi Cyclone.
For Efficient separation conveying air and product.
Made out of SS 304 / SS 316 / Carbon steel.
Additional Wet Scrubber and Bag filters are available to meet the local pollution standard.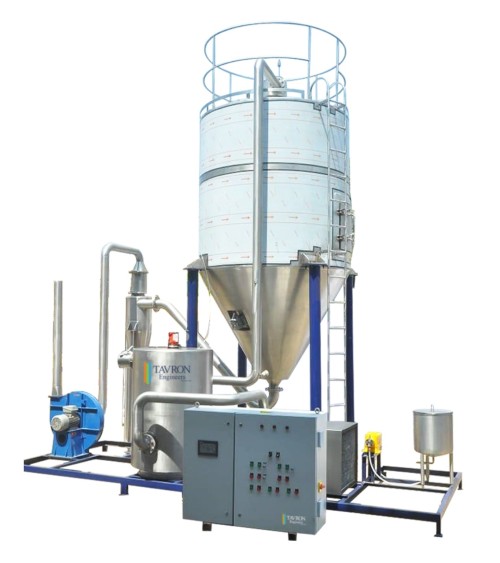 LAB MODEL SRAY DRYER
Capacity from 2 to 25 Kg / Hr Water Evaporation.
Highly suitable for R&D and Education institution.
Heating with Electrical Heater with other heating on option.
Complete Auto control.
Available with PLC control.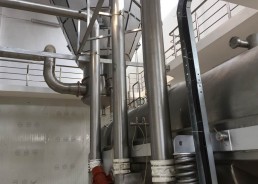 VIBRO FLUID BED
Material of construction SS 304 / SS 316.
Well-designed Coni form hole bed sheet
Supported on spring loaded SS / MS legs.
Easy removal for the Inspection of the product.